The Minnesota Art Truck is all about making local, original art and unique gifts accessible. It is like a food truck for art! On any given day, at any given event, you'll find original, one-of-a-kind jewelry, books, paintings, sculpture, weldings, weavings, robots, yard art, mixed-media, wire art, woodwork, pens, and journals—basically anything that feeds the creative drive of artists.
What made you decide to open this business?
For a large portion of my life, I have been in search of the perfect creative outlet. Over the years I've tried almost every form of art, but the ideal medium alluded me until about 5 years ago. That's when I was introduced to "Assembled Art" — I take disparate objects that were not originally meant to be together and revision them into a new form.

I quickly found that people really enjoyed my sculptures, as they were approachable and less intimidating than some traditional forms of art can be. And, even better, people that weren't relatives, were interested in purchasing them (my sculptures have been purchased by people all over the world and several large corporations have added them to their permanent collections). My nutty sculptures have been accepted in juried art shows in Minnesota and have been part of three different curated art exhibits.

I enjoy sharing and connecting with others, especially around art. So, I started reaching out to galleries, to talk about partnering with a few of them to sell my sculptures. Sadly, the galleries I was referred to and reached out to were less than interested in my art. The response I most often received was that my art was not, "fine art."

As I started meeting and connecting with more artists, I realized that artists often have a lot of trouble connecting with art consumers. And, that most artists, galleries, and boutiques are vying for the same small consumer market. As a result, the competition for this market was very high and required this market to come to us. So, I stole a page from the now booming food truck phenomenon and figured if you can sell food on a truck, "why not art?" Most importantly, sell original, local art to people where they are, rather than making them come to us—making original art more accessible, less intimidating, and a fun experience to personally engage with. It's important that we (artists and the art community) provide more inclusive, inviting art opportunities for everyone.
What has surprised you most when owning a business?
I have owned other businesses, but never previously owned and operated a mobile business. I had no idea of the costs, rules, regulations, insurance needs, and limitations. Everyday is a new learning experience. Step one was finding the right truck. Step two was refurbishing it to work for my business model. Step three was getting it road worthy and department of transportation approved. Step four was securing insurance for a business model and concept that had not really been done and for only one truck, not a fleet. Step five was finding artists that wanted to have their art onboard. Step six was scheduling events. Step seven, convincing conservative Minnesotans it's okay and safe to climb aboard the Minnesota Art Truck. Step eight, changing consumer buying behavior when it comes to art (this one surprised me the most). Why? Many people don't think of the reproduced gifts they buy at big box stores as art. In many cases it is and they could buy original, local art for the same price (supporting small local artists, makers, and creators at the same time).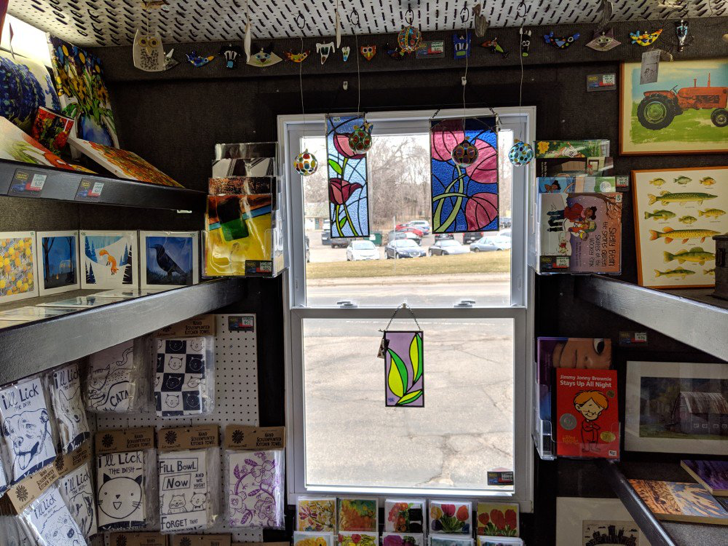 What is something most people don't know about the business?
It's not funded by any art grants or outside sponsorships. We are funding it 100% ourselves, through our kids' college fund, and our retirement fund. I take-on small freelance projects to bring in extra cash to keep the things running during these early years. Part of the plan for 2019 is to find a corporate sponsor that wants to help support the arts and small local artists, but needs that business to handle the details, while representing their company in a very positive light.
What would your customers say they love most about your business?
It's an inclusive, interactive experience that lets them connect with art, artists, as well as their own creative side. So many people are quick to say, "I'm not at all creative," or "I'm not an artist." Yet, we all have both a creative right and analytical left side of our brain—which are connected as one brain. I enjoy challenging people's thinking in regard to being creative and help show them the importance of engaging their creativity and the overall wellbeing it can add to their life.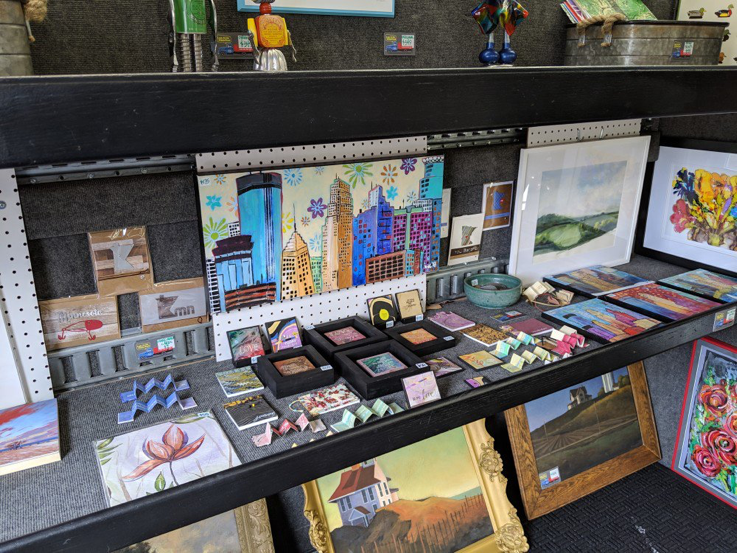 What are your favorite things about being an entrepreneur?
This would be the 3rd company I have owned. I have had varying degrees of decent success with them. What I like the most is that I get to be in charge. I get to see my vision from beginning to end. If you look at the strengthsfinder profiles, I am actually a strengthsfinder coach, often times people are starters or activators but don't get it finished. Then there are often achievers that get stuff done, but don't know how to get things started. I am an odd mix where I have both of those extremely high, so not only do I like to start, but I like to finish. I am well-built to run on my own.
Why do you think it's important for people to shop local?
Companies like Target couldn't have ever gotten bigger if it didn't have local success to start with. Look at it this way. If 200 people each year, spent $100 on the MN art truck, it would be wildly successful.

Just a small purchase by a few people can help a small business grow. If we can give a little bit, it makes a big difference. Overall, if we can help people succeed in their areas of strength, in their avenues of business, its going to help make the world more well-rounded and make us more successful. If I am successful in my community, then I am going out to eat somewhere, or buy clothes somewhere, buy flowers somewhere. It is a way to give back to the community.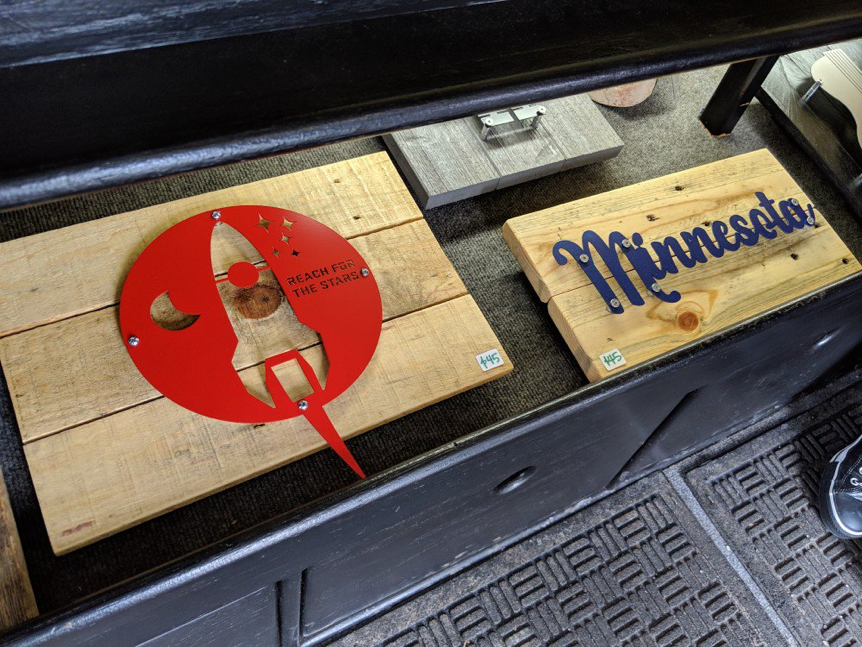 Tell us more about you?
For a long time, art was just a hobby and it took me many years to find my medium, which a fancy term is assembled art. I make things out of junk I find. I spend a lot of time in my studio dreaming about new types of art. I love to run, I love to bike, I have 17 and 13 year old daughters, so both of them keep my wife and I busy constantly. I enjoy making and tinkering and like to exercise.
Anything exciting going on that customers should know about?
We have already launched the "Art Stop" program. But, it's been a very slow burn in regard to acceptance. Many companies and individuals want to support small local artists, makers, and creators. But, it's a lot of chasing around—Art Fairs, Museum Gift Shops, Galleries, Shopping Centers, Etsy. With the "Art Stop," we bring the truck right to our customers homes, offices, schools, parks—Where they are living their lives. Amazon lets you "virtually" look online and ships next day. We deliver the entire store to our customers, the same day, and they get to experience everything in "real life."