Unmapped Brewing Co. was founded by the husband and wife team JD and Megan Park. Read all the way to the end for exciting news on upcoming barrel aged beers!

With a welcoming, open tap room, Unmapped is the perfect place to enjoy a beer and socialize with family and friends. It is dog friendly and kid friendly, in fact it was one of the first places we brought our daughter! I thought one of the coolest parts of my chat with JD was how he described the meaning behind the name Unmapped.

"People always ask what does Unmapped mean, it kind of means whatever to you personally, it means to live a life of adventure. Go explore, do things you've never done before, go somewhere that's unmapped to you. Whether to try a new beer or go to a new country, anything in between. Just live a life of adventure."
What made you decide to open this business?
When I met my wife Megan in college, she told me that someday she wanted to open her own business. That conversation left such an impression on me that I knew that was what we were going to do together. I started home brewing around the time the Surly Bill passed (which allowed for taprooms to exist in Minnesota), and I really fell in love with the art and craft of creating beer as well as the culture surrounding the rapidly growing MN craft beer industry. When I first told Megan that I wanted our business to be a brewery, she immediately said "No" and left me wondering how I would convince her to take the risk. I worked really hard over the next six months to prepare a sound business plan. I spoke with owners, brewers, and taproom staff from breweries all over the Metro, MN, and even the country about their experiences, hopes, shortfalls, and successes. Finally, I presented my business plan to Megan, and I'm lucky that it was enough to convince her to join me on this adventure!

I was that guy who was always going to different breweries, hanging out and trying different beers. I just really loved the vibe and the atmosphere, the camaraderie and just the sense of togetherness of the industry had.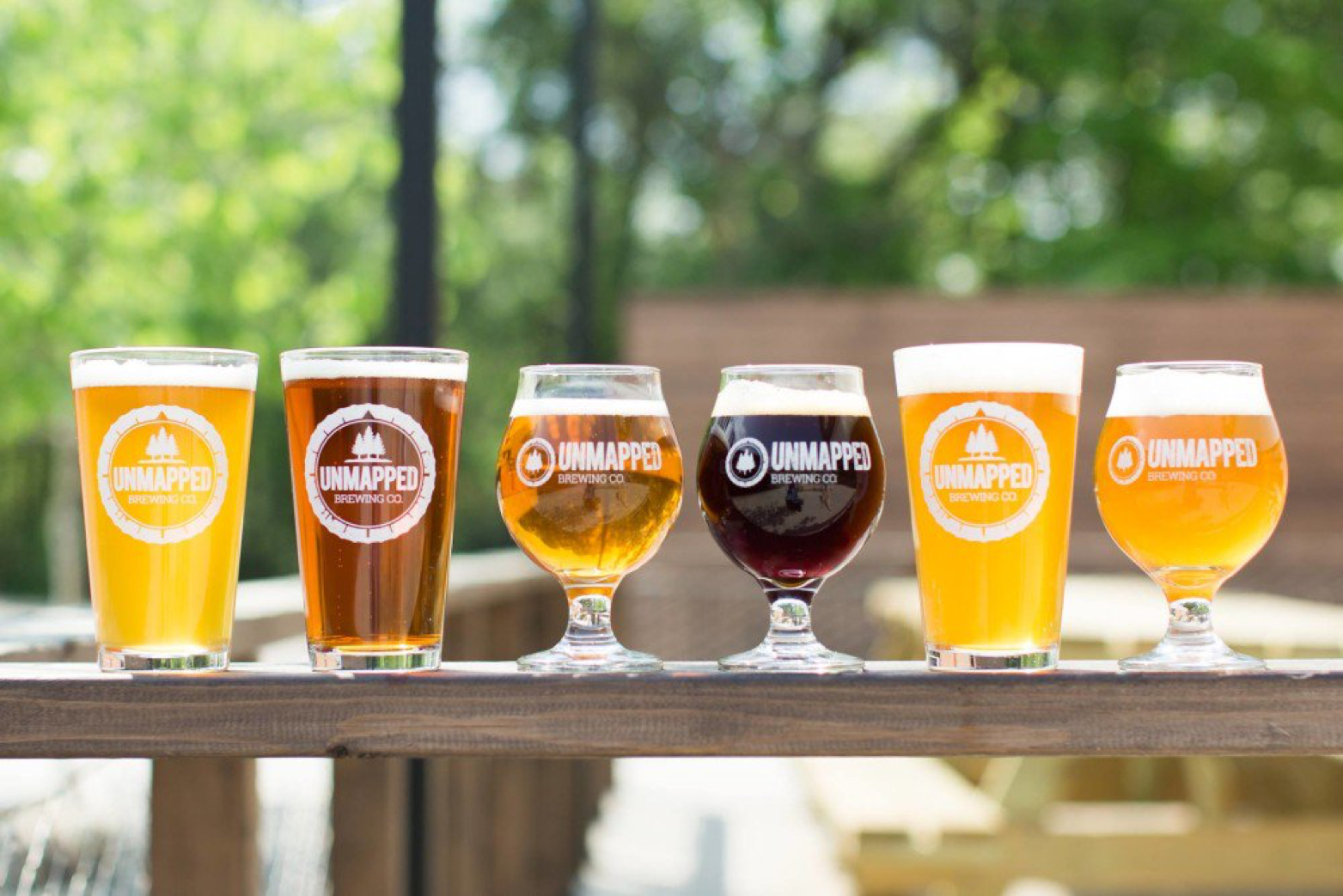 What has surprised you most when owning a business?
There have definitely been some surprises along the way, but the one that continues to amaze me is how supportive and loyal our customers have been since the very beginning. It is still a very cool moment for me to be out on the trail or running errands around town and seeing someone wearing an Unmapped shirt or hat. The sense of pride and happiness I get from seeing all of the support from our customers day in and day out makes everyday a good day. I will always be thankful for that.
What was it like when you first started?
Saying things were hectic might be a bit of an understatement. When we first opened, we were of course rushing as fast as we could to unlock our doors and welcome in the general public for the first time. Our Head Brewer Derek (who was our only brewer at the time), was working like crazy to get a couple of beers ready to go for our opening. The rest of us were training staff, working on procedures, and just trying to make sure nothing slipped through the cracks. When we opened that first day on June 17th 2017, we didn't know what to expect, but we were so amazed to see a line of people waiting for us right at Noon!

I still get chills remembering that moment. Well, after that first weekend, we nearly ran out of beer. It was constantly a rush to brew more beer before the other supply ran out. By July 4th, we were down to just a few kegs left of one beer so we actually closed down for a few days to replenish our stock. Luckily ever since that point, we have always had a fun and interesting variety of flagship and special release beers.
What would your customers say they love most about your business?
I think our customers really enjoy the fact that we are welcoming to all people. We're not a bar- we're a community gathering place. You don't have to drink a beer while you are here to have a great time. We have plenty of kids and dogs join us everyday, and we love it! The Glen Lake community is truly a wonderful place, and we just hope that we continue to be a place that builds and grows that sense of community here and welcomes folks from all over to join in the fun.
What are your favorite things about being an entrepreneur?
To risk sounding cliché, to work for yourself is just amazing and liberating. Being on my own schedule with a young daughter, we are expecting another. Its huge to have that flexibility in your life. There is a lot of time you have to put into it, but to be able to say, know what, I can't be here this time because I have something with my daughter.

It is a lot of hard work but that hard work does pay off so much in terms of a sense of a fulfillment, to be able to provide for your family and make something from an idea, it's super fulfilling.

If this is something you're going to do you have to commit to it one hundred percent and that's a huge risk. You just have to jump in and work hard.
Why do you think it's important for people to shop local?
There is nothing more important than a local business to the economy of a community. It's awesome for me to live in the community in which my business is in. Everything's so interconnected to all of our success. To partner with local businesses, support local causes, and encourage people to shop local. It's incredibly important to the vitality of the community.
What are your favorite things to do in the neighborhood?
I'm that weird guy that actually likes the snow still. That first snowfall of the year and that snow around Christmas and the holidays, such a beautiful thing. I am not good at any winter sports, but have really embraced cross country skiing.

Summers are so great here too. The lake life.
Anything exciting going on that customers should know about?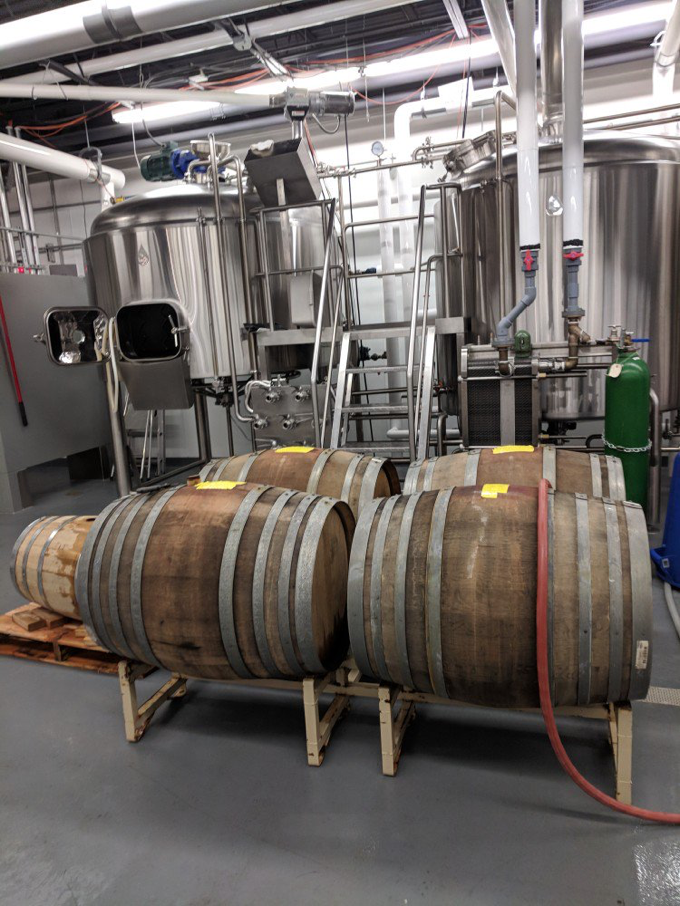 We're really excited about this one! In the coming weeks, you'll notice some wood barrels popping up in the brewing area. We're just about ready to start our barrel-aging program, and it is going to be really interesting to see the results. The only problem with barrel-aging is that you have to wait even longer to taste the results, but I think it will definitely be worth the wait! Stay tuned…we're hoping to have our first barrel-aged release later this year or early next year.