Summary
"I just like making beer, talking about beer, trying out different styles. That is all I ever want to do." I sat down with Brennan to chat about his business, and his passion for beer couldn't be more obvious! Birch's is full of thoughtful interior designs and one of the best lake views in the area. Oh, and the beer is really, really good.
Describe your business.
Brewpub and supper club, a lot of good comfort food. Great, homey, traditional food with a nice brewpub, where you can see where the beer is being made. You can get something different every time. I don't like to set rules.
What made you decide to open this business?
I got my degree in philosophy from the U of W Madison, and I had no idea what I wanted to do with my life. But I knew I really liked breweries, so I went to brewing school in Chicago and then Munich, Germany and then got a great job in St. Louis working at a craft brewery. What is so great about brewing is that it is physical, you are on your feet moving heavy stuff around, but you also have to use your mind. It is a lot of micro biological science having to deal with the yeast. It is also an art. They call it craft beer, but I think of it as an art. I always wanted to be an artist but sucked at painting/drawing. This is my way to be a scientifically minded artist.
What was it like when you first started?
I spent nine years learning in St. Louis how to design a better brewery. Set this place up to become streamlined and simple. Don't have kegs, just serving tanks, and don't filter anything. Very simple, so we could spend time thinking about what next beer to make.
What has surprised you most when owning a business?
Surprised how physical it was. Pulling out the grain, moving around constantly, not spending time on the computer. One of the other big surprises. Here, I knew what I was doing. Surprised it has worked according to plan. One of the biggest things I do differently is how I treat my yeast. I treat my yeast as the brewer. Brew every week and keep yeast healthy and happy!
What would your customers say they love most about your business?
The view, the food, or the beer. (Here, Brennan asks Amber what she thinks, she proclaims beer with emphasis.) They generally love the food, the view, and the beer. Basically just those three. Good service is a close fourth.
What's the most memorable experience you've had working with a customer?
When building this place, we wanted to do a lot of wood, fireplaces, cozy cabin by the lake. When customers say it feels like we are up in lake country, at our cabin. Love stuff like that. We scripted it for them, and it worked. Main reason to do this job, I go to the bar and someone says this beer is amazing. I wanted to actually produce something. I like it when customers say good work, well done. Simple thing, but it makes a big difference.
Do you have any exciting plans for the future that you want customers to know about?
All I think about is what is the next beer. We are never going to distribute, sell cans, kegs, to anywhere else. I don't want to make this a chain, my main goal is to have this place open to make whatever beer I feel like. Always going to be something new and different, but I don't even know what that is yet. Always want to keep it varied. If its sounds like fun, let's make it!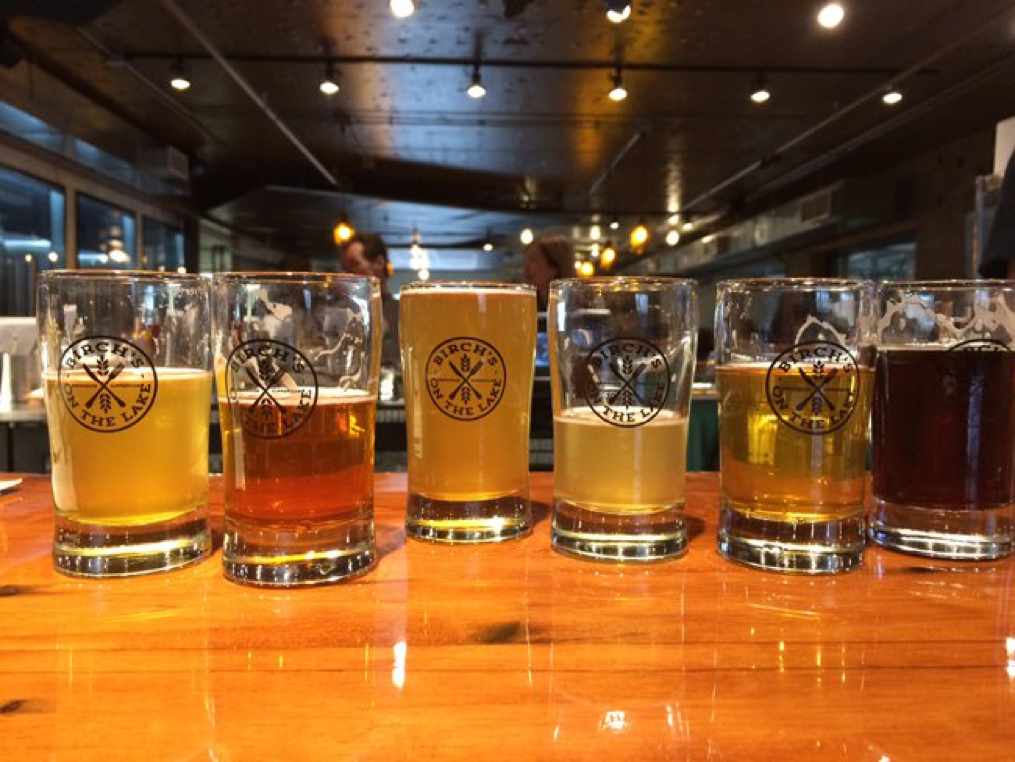 What is something most people don't know about the business?
That it has almost nothing to do with the recipe, everything to do with the process. How well you brew it, age it, clean it, carbonate it. Has way more to do with that. Every batch is totally different and unique. I can't stand when people call beer a product. This is beer, it has a definite shelf life, it changes when it has been on tap, even the same batch on tap changes as it ages. So many factors, so subjective. That is why it is an art. Can't produce it the same way twice.
What do you like most about being an entrepreneur?
Main thing is making whatever beer I feel like. The other great thing is I just had my second daughter. I can take time off and still go home and have flexibility.
Do you have any advice that you want to share with other entrepreneurs?
Setting up your own business, you have to do it your way. Can't take industry convention, what everyone else does, and expect to do it that way. You are the one in charge, make it fit around what you want to do. And if it isn't working, you can change it. That is really the best part, if it doesn't work, change it. Make sure you are going to be happy. What is the point of life? If you are going to start your own business, it should be something you enjoy doing. If you are being authentic, that comes across to people more than anything else. If you are selling yourself, your true, honest, authentic self, than it is a way easier sale.
What do you love about this neighborhood?
Grew up on Lake Minnetonka. Came to Long lake all the time for the mini golf course that is not there anymore. It is a small town, but it is close enough to the Cities, so when my daughter was born early we could go to Children's Hospital and get the best treatment. I know a lot of the other business owners, we talk to the city council, we can get things done. When we wanted to revive this building, they thanked and supported us.
What are your favorite places to go in the neighborhood?
Really like Fletcher's, Excelsior, anywhere by boat. In Wayzata, McCormick's is my favorite. We had someone to watch our kids recently. Wanted to sit outside, get good beer, so we thought about it and went to Birch's. Sounds like a homer, but it was a great realization because I want to come here. Though I end up getting roped into helping or fixing something!
What are your favorite things to do in the neighborhood?
Really wish that mini golf course was still here. Go on the boat or hangout by the pool at our house. My wife always wanted a pool. We opened it this year in April and we use it through October. I was not interested in having a pool at first but am so happy we do. Kids are going to get older and love it, and all the people in the neighborhood come over.
Why do you think it's important for people to shop local?
Great question. The real reason to shop local is that local companies pay taxes to that local area. The money you spend pays back to that local community, that is what makes it crucial. The other huge advantage is that it is generally better, fresher. The tomatoes now makes the tomatoes the rest of the year taste bad with how fresh they are. The other thing I really like about local is the uniqueness. Sit here looking out, you can't be anywhere else looking at this lake. This is Minnesota. People bring friends here to show them what is unique about Minnesota. Local is just better. The main reason that craft beer is doing so well is because you can see where it is made. That goes such a long way with people.