Julie not only works as a leader at Bremer Bank, but is also one of the most influential local leaders for The Leukemia & Lymphoma Society. Recently, Julie was awarded with the designation of 2018 Woman of the Year for raising an astounding $155,363.95 for this incredible cause.

Side note, Julie and I live in the same neighborhood and it is one of the most passionate, coordinated fundraising efforts I have ever seen. Family, friends, neighbors, and strangers alike all rallied around the cause.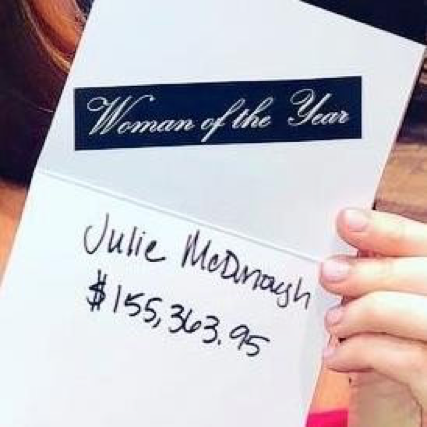 Describe what your organization does
My full time job is leading the Private Banking team for Bremer Bank.

I am also a volunteer and board member for the local chapter of The Leukemia & Lymphoma Society. Right now I am participating in a fundraising campaign for LLS called "Man & Woman of the Year" which is a 10 week competition to see who can raise the most money!
What drives you to do what you do? What motivates you?
I love working with individuals and their families with planning for the future. I also love finding talented individuals and helping develop them to achieve their personal career goals. I'm motivated by being a leader, achieving strong results for my organization and seeing the people around me have success in their careers.

I ran for Woman of the Year in honor of my son, Cole, a cancer survivor at age 8. My goal is to raise money for cancer research to help find a cure to help other children and families in the future.
Do you have any advice to give aspiring leaders?
Network network network! If you have an interest in banking or financial services then reach out to people that are in that field and invite them to coffee or lunch. Organizations are always looking for good people and the best leaders!

Regarding my volunteer work, when you have a personal connection to a cause, people can see that and want to help. Don't be afraid to share what you're doing and ask for help!
What does the future hold?
I look forward to continuing to grow the Private Banking team across the Bremer footprint and help grow the organization as a whole. I'm fortunate to be a part of a progressive, forward-looking organization, so I feel like my future role might even be one that doesn't current exist and I find that really exciting!

I will continue to serve as a board member and fundraiser for LLS. I also hope to become more involved in the advocacy efforts that will help new drugs be more affordable and get into the hands of those that need them the most.
What are your favorite things to do in the neighborhood?
We love the neighborhood we live in here in Plymouth because of being close to the Luce Line and downtown Wayzata for the great restaurants! Our boys are active in hockey, basketball and baseball so on any given day you can find us running around Plymouth to a sports arena or field!
Why do you think it's important for people to shop local?
Our neighborhood businesses are owned by our friends and neighbors, by the parents of the children our children go to school with. When we consciously make choices to do business locally we are making a statement that we care about the health of our community and are committed to supporting each other!
What do you love most about the neighborhood?
We love living in the Twin Cities for so many reasons! I lived in San Francisco for 7 years – and loved every minute of it – but now that we have a family this is absolutely the right place for us. We are so lucky for the public school systems we all have access to, the job opportunities, and so many quality healthcare providers. Having spent so much time at Children's Hospital in Minneapolis over the last 5 years, I am particularly grateful to have that resource here so close.